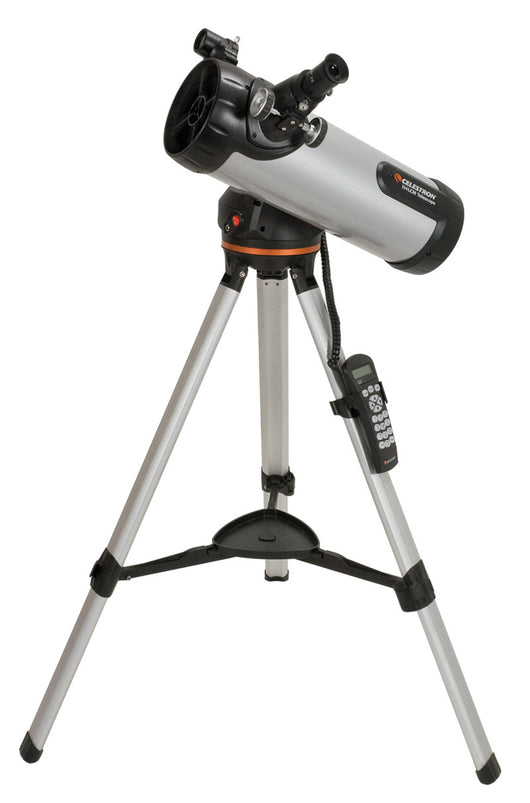 DESCRIPTION
Get the same star locating technology found on our observatory-grade telescopes at a price that fits your family's budget with the 114LCM.
Locates objects for you
Leave the star maps at home; 114 LCM computerized telescopes can locate thousands of celestial objects for you automatically. To get started, just perform our simple SkyAlign alignment procedure by centering any three bright objects in your telescope's eyepiece. From there, your LCM can calculate the time, date, and location and orient itself with the night sky.
Browse the hand control's database and select any star, planet, galaxy, or nebulae in the database. Within seconds, your LCM centers it in the eyepiece and tracks it as it moves across the sky. Looking for something new to observe? Press the Sky Tour button and your LCM generates a list of the best celestial objects currently visible.
Precision optics for detailed views
With the largest optics in the LCM beginner telescope family, the 114LCM packs enough light-gathering ability to provide extraordinary views of all the best celestial objects. Explore our Solar System, from the moons of Jupiter to the rings of Saturn and beyond. Then venture further into deep space to view the Orion Nebula, Pleiades Star Cluster, and hundreds of other objects.  You can even explore the craters of the Moon up close, with impressive detail.
Everything you need to get started
Even if you've never used a telescope before, Celestron makes it easy to get started with amateur astronomy. Your LCM telescope comes with an adjustable aluminum tripod, 2 high quality eyepieces, and a red dot finderscope. Plus, everything is backed by Celestron's 2-year warranty.
To enhance your experience under the stars, download Celestron's free SkyPortal app. Listen to hundreds of audio descriptions of the most popular objects on your iOS or Android device while you observe them with your LCM telescope.
Your 114LCM telescope can grow with you for years to come. Consider adding a Moon Filter or additional eyepieces as you progress with the hobby.