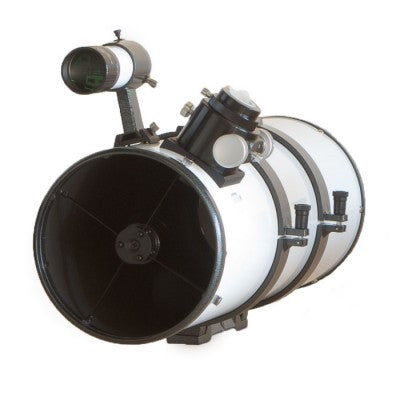 About TPO Imaging Newtonian Telescopes…
If you are looking for a telescope that does a great job of imaging but doesn't come with the cost of a Ritchey-Chretien, check out the Third Planet Optics (TPO) Imaging Newtonian line of telescopes! All of our Imaging Newtonian optical tube assemblies, offered in apertures from 6" - 12", have very fast optics for the widest fields possible. Image with a DSLR or small webcam all the way up to large sensor CCD cameras with these inexpensive yet effective Newtonians.
The optics on all TPO Imaging Newtonians consist of a parabolic primary mirror and an elliptical secondary, or diagonal. The mirrors are made from B270 white water optical crown glass, which is more thermally stable than glass traditionally used on other reflectors. A 91% aluminum coating is applied, and then over-coated with a layer of quartz for the ultimate in durability. The primary mirror cell is very sturdy, and has six collimation knobs that can be adjusted by hand with a push or pull of the knob. Collimation is made even easier due to the center spot marked on the primary mirror. The diagonal mirror is held in place with a thin four-vane spider.
The optical tube assembly on the 3rd Planet Optics Imaging Newtonian telescope is made of rolled steel and painted white. The ends of the tube are die-cast aluminum, which contribute to the OTA's rigidity. Steel is a bit heavier than traditional aluminum, but since it has a lower coefficient of thermal expansion, your telescope will tend to hold its shape (and therefore, hold focus) as temperatures fluctuate throughout the night. The inside of the OTA is painted in a matte black finish, which stops stray light in its tracks.
A low vibration cooling fan is built into the primary mirror cell of the telescope to assist in cooling your optics down quickly. The fan is powered by a eight (8) AA batteries (not included) which are housed in an external battery pack.
A 3.3" dual-speed Crayford-style focuser rounds out this package. The ridged focusing knobs are easy to turn, even with gloves on, and the 10:1 microfocusing dial allows for very small changes, or tweaks, in focus. It takes ten turns of the microfocusing knob to equal just one turn of the larger knob. There is also a little knob on the bottom of the focuser that controls the tension, so that you can make adjustments depending on the weight or distribution of your load. The 3.3" opening steps down to a 2" compression ring adapter, and you will receive 1.25" compression ring adapter so that you can make use of all your eyepieces. A 35mm extension tube is also included to help you match the back-focus requirements of your imaging equipment. This is one nice focuser, and due to its steel drive rail and other upgrades, you will find that it suffers from very little flexure, even under heavier imaging payloads.
The telescope comes with dual split-hinged mounting rings that are made of die-cast aluminum and felted on the inside to cradle the OTA without scratching. There are threaded holes on the underside of the rings that allow installation on either a Vixen-style (included) or Losmandy-style dovetail plate. The top of the rings is also drilled so that you can mount accessories.
All TPO Imaging Newtonians come with an 8x50 straight-through finderscope. The ocular has a non-illuminated crosshair and has 13mm of eye relief. A quick-release mounting bracket is also included.
TPO 10" f/4 Imaging Newtonian Highlights…
Aperture: 10"
Focal Ratio: f/4
Focal Length: 1016mm
White rolled steel exterior, flat black interior for higher contrast
3.3" dual-speed 10:1 linear Crayford-style focuser with 35mm extension, 2" & 1.25" adapter
Dual hinged rings with Vixen-style dovetail
Cooling Fan included.
Push/pull oversized collimation knobs for easy adjustments
Weight: 29 lb.