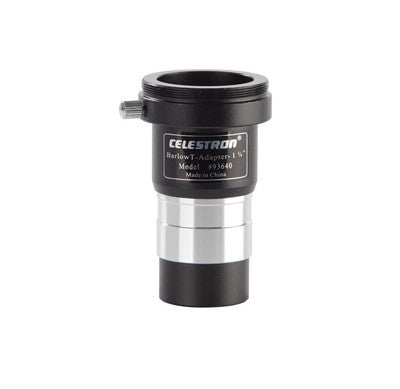 This versatile accessory is perfect for visual observers and budding astroimagers. With one accessory, you can enhance your visual observing sessions and get started with imaging through your telescope using a DSLR.
Visual Barlow: The 2x Barlow lens doubles the magnification of any eyepiece used with it for visual observing.
Prime Focus Imaging: Remove the Barlow lens assembly and insert your DSLR camera (with optional T-ring) to use your telescope as a telephoto lens of the same focal length and f/stop as your telescope tube.
Tele-Extended Imaging: Reattach the Barlow lens and insert your DSLR to create a telephoto lens of twice the focal length and double the f/stop of your telescope tube.
Note: You will need to purchase a T-ring specific to your DSLR camera model in addition to this accessory to attach your camera.
Some shorter focal length telescopes and some Newtonian reflectors may not have enough inward focus travel to be used for imaging at prime focus, but can still be used in the tele-extended mode.