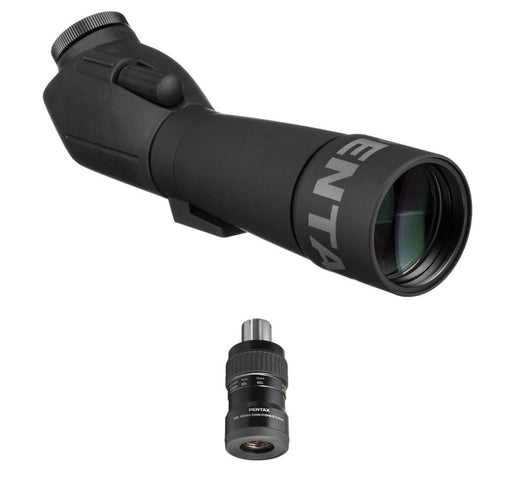 Astronomers choose THIS Pentax spotting scope because of the ability to change eyepieces! Want to zoom in more? With an additional 1.25" eyepiece you can start to look at details in the rings of Saturn!

With Interchangeable 8mm-24mm (70509) Zoom Eyepiece 1.25"
High-Resolution ED Elements for a Sharp, Crisp Image The objective lens incorporates ED (Extra-low Dispersion) glass elements to deliver a sharp, high-resolution image with minimal chromatic aberrations.
PF80EDA Slanted Barrel for Comfortable Viewing. The PF-80EDA lens barrel is slanted 45 degrees upwards toward the eyepiece to assure the most comfortable viewing position, even when the subject is at the top of a tree or on a steep hill.
Lightweight Magnesium-Alloy Body for Portability and Shock Resistance. Made of heavy-duty magnesium alloy to reduce weight and protect inner mechanisms, while its protective rubber housing further enhances shock resistance and durability.
Waterproof Construction for All-Weather Viewing. Incorporates a dust-shielding glass element in its eyepiece receptacle to assure JIS Class 6 waterproof construction, assuring worry-free viewing in the rain.
Nitrogen-Filled Body to Prevent Fogging. The PF-80ED's body is filled with nitrogen gas to prevent internal fogging caused by sudden temperature changes, providing a clear vision under any condition.