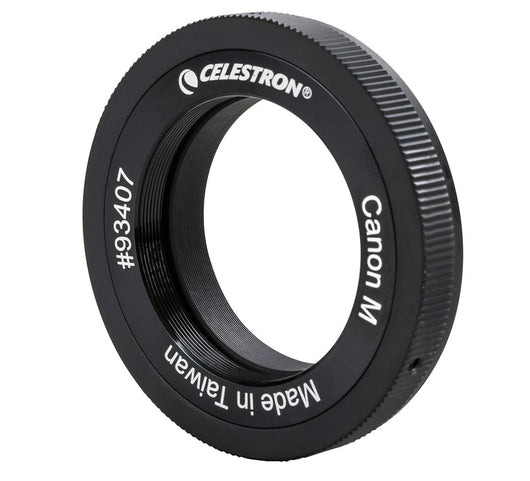 T-Ring attaches to M-mount Canon mirrorless camera bodies
Works with Celestron T-Adapters
42mm female diameter thread
Sturdy bayonet flange locks for a secure fit
A T-Ring is one of the first accessories you will need to take pictures through a telescope or spotting scope. If you have a Canon EOS mirrorless camera body, the Celestron EOS M-Mount T-Ring is the one for you.
How to Use
To use this T-Ring, place the M-Mount T-Ring on your Canon mirrorless camera. Just like changing a lens, line up the T-Ring to your camera's lens mount. Push it in and turn until you hear a click. The T-Ring has a sturdy bayonet flange that locks for a secure fit. Once you attach the T-Ring to your camera, you're ready to connect your telescope. The telescope side of the T-Ring has threads that accept a variety of camera adapters, including the Celestron T-Adapter. The adapter you choose depends on the type of photography you wish to do.
This T-Ring fits EOS M-mount mirrorless cameras only. It will not work with other Canon camera bodies like the EOS RF-mount or EOS EF-mount model cameras without adding a Canon adapter to convert those cameras to M-mount.