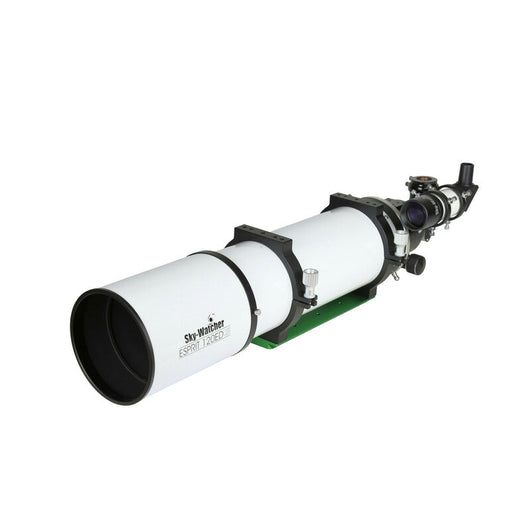 Quick Overview
120 mm apochromatic 3-element refractor
840 mm (f/7)
Fully multi-coated
Thread-on field flattener
3.4" focuser w/micro focus
2" Diagonal with dielectric coatings
9x50 RA erect-image finderscope
Canon camera adapter
Tube rings with CGE style dovetail bar
Aluminum foam lined case
43mm image circle
OTA Weight: 22lbs.
OTA Length: 31.5" Extended and 27.375" Retracted
Back focus: 75mm
Designed wtih the discerning astrophotographer in mind, Sky-Watcher USA's top-of-the-line Esprit refractors deliver the kind of imaging performance one would expect from telescopes costing thousands of dollars more.
With their three-element air spaced objective lens design, false color is completely eliminated, yielding exceptional contrast and sharpness. The included 2-element field corrector guarantees a flat field across the entire imaging plane. The Sky-Watcher exclusive Helinear Track focusing system provides a smooth, rock-solid focuser with zero image shift.
All Sky-Watcher USA Esprit refractors come with a 9 x 50 right angle finderscope, 2-inch Star diagonal, 2-element field flattener*, camera adapter, D-style dovetail and padded case. Everything you need to get out under the stars.