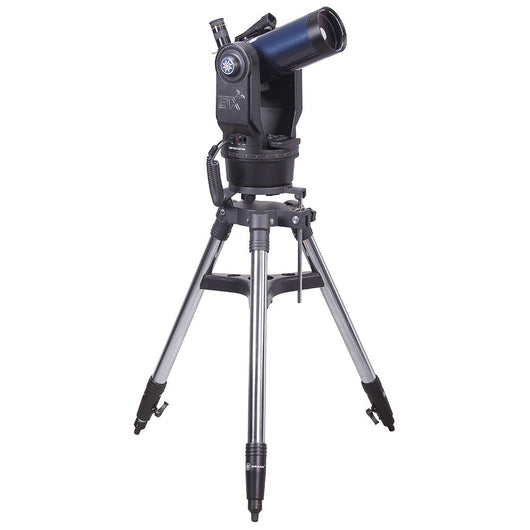 Meade's world famous ETX-90, with AutoStar #3514-04-15. The ETX-90 Maksutov-Cassegrain offers terrific optical quality that is the envy of the telescope industry, the easy to use Meade AutoStar computer handbox with over 30,000 object library, and a solid mount and tripod. If you are in looking for a high quality portable scope absolutely loaded with features and performance you need look no further.
The Meade ETX-90 telescope features an advanced Maksutov-Cassegrain design for pinpoint star images and extraordinary contrast, making it a great deep sky performer and ideal for detailed lunar and planetary observation as it easily soars to high magnifications. This 90mm (3.5") model has a focal length of 1250mm (f/13.8) with Meade's best Ultra-High Transmission Coatings (UHTC).
Electronics include the Meade AutoStar keypad with over 30,000 object library and which can be linked to a PC using an optionally available software and cable connector set, allowing the telescope to be controlled via a laptop or other PC. The telescope is conveniently internally powered by 8 (user-supplied) AA batteries which will run it for approximately 20 hours under normal usage. An AC adapter is also available for separate purchase.
Standard equipment includes a high performance Meade Series 4000 1.25" diameter 26mm eyepiece (magnification of 48X), easy to use red dot viewfinder, and portable but extremely stable Meade Model 884 field tripod with chrome plated tubular steel legs and built-in wedge. Also includes Meade AutoStar Suite Astronomer Edition Software and Instructional DVD to locate objects in the night sky, print star maps, and learn more about the use and uses of your new telescope.
A telescope is only as good as its mount and this mechanically sophisticated model includes an extremely rigid dual fork design. The similarly advanced optical tube design incorporates a unique flip mirror mechanism, allowing light to either go to the comfortable 90 degree observing position of the eyepiece or the built in camera attachment port at the rear of the tube. Camera adapters sold separately.