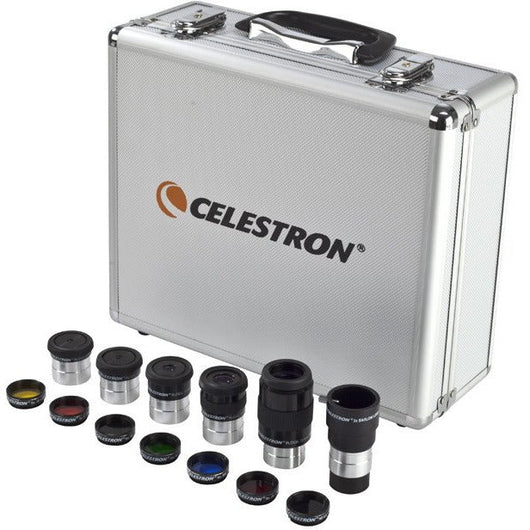 Five Superior-Grade 1.25" Plössl Eyepieces — 6mm, 8mm, 13mm, 17mm and 32mm. These eyepieces feature a 4-element design with a 52° apparent field of view. Each eyepiece provides superb color resolution, edge sharpness and clarity. All optics are fully multi-coated for maximum contrast and resolution.
1.25" 2x Barlow Lens— Doubles the power of each eyepiece, giving you a total of ten power combinations. High-grade glass optics and fully multi-coated lenses ensure there is no degradation of image.
Six Colored 1.25" Eyepiece Filters — Kodak Wratten filters #12, #21, #25, #56, #58A, and #80A. Use these filters in conjunction with your eyepieces to bring out maximum contrast when viewing planets.
1.25" Moon Filter — A neutral density filter which cuts down on the brightness of the Moon, especially during brighter phases. The Moon filter will help you observe craters with greater contrast and detail.
Aluminum Carrying Case — This sturdy and well-built case fits all of the above items in the die-cut foam interior. This case also has room for additional accessories as you grow your collection.
Get the most out of your telescope with this comprehensive kit of 1.25" eyepieces and filters! You'll have everything you need to observe the Moon, planets, and beyond in stunning detail. The included high-quality Plössl eyepieces help you get as much or as little magnification as you want, from 6mm to 32mm. For even more power, attach the included Barlow lens to double the magnification of each of your eyepieces, for a total of 10 different powers. Choose the blue colored filter to bring out Jupiter's Great Red Spot, or use the Moon filter to cut down on the brightness of the Moon and observe craters with more contrast.
The durable metal carrying case makes traveling with your accessories stress-free. You can even add more accessories to the kit as you grow your collection.