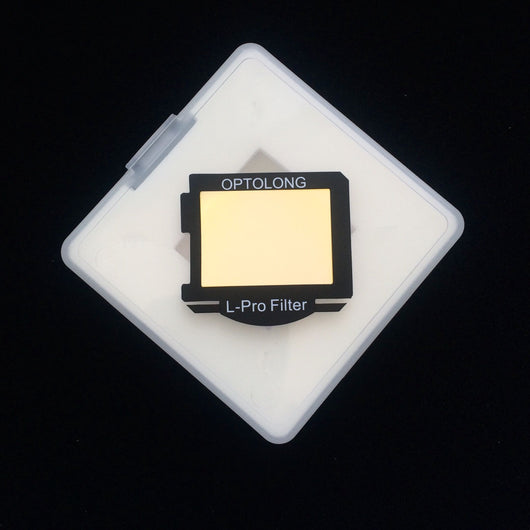 Optolong L-Pro Broadband Clip Filter
The L-Pro filter from Optolong is a multi-bandpass filter that performs many tasks when imaging with your camera. Better color balance is achieved by maximizing the transmission band, allowing you to produce images of broadband emission objects with nominal color cast.
By reducing the transmission of artificial and natural light pollution, including neutral oxygen (skyglow) as well as light given off from mercury and sodium vapor lamps, the background sky will become darker, allowing the good stuff to shine through. High transmission of main nebulae emission lines at OIII, H-Beta, NII, H-alpha, and SII, when combined with the precision off-band blocking of contrast-killing light pollution, makes this filter perfect for most emission nebulae, reflection nebula, and dark nebulae.
The Optolong Nikon D6 Clip L-Pro Filter is made with Schott glass that has been multi-coated with an ion-assisted deposition technology to ensure scratch resistance and stability on the central wavelength, or CWL. The filter cell is made of lightweight, strong metal and is CNC machined, sand-blasted, black anodized, and then laser engraved.
Using a Clip Filter on your Camera
The Optolong Clip filter can be inserted without tools; just use your fingers to insert or remove the filter. Once inserted correctly, it cannot unintentionally fall out.
No changes to the housing of DSLR are required. All lens functions will work with the Clip installed, including focus, screen, and image stabilization,
The Optolong clip filter prevents dust from settling on the sensor during long exposures.
Clip filters are compatible with many DSLR cameras. Use the Drop down selector to choose the right one for your DSLR
To use adapters to attach your camera to a telescope you'll need to insert the Clip-Filter first and then install the desired lens adapters.
Quality Filter Materials:
Schott B260 substrate material from Germany, 1.0mm thick
CNC machined and black anodized aero-metal filter cell that is ultra-thin to provide largest clear aperture; Laser-engraved to prevent fading
Multiple layers of anti-reflection non-cementing coatings applied via electron-beam gun evaporation with Ion-assisted deposition
Optolong Filter Manufacturing Processes and Parameters
Filter substrate is fine-optically polished to 1/4 wave and <30 parallelism over both surfaces
Surface quality, according to MIL-O-13830, is 60/40
High transmission at major nebula emission lines (i.e. H-alpha 656nm, OIII 496nm and 500nm, SII 672nm and H-beta 486nm)
Precision off-band blocking, specifically the major emission lines of artificial light pollution (i.e. Na 589nm, Hg 435nm and 578nm)
High value transmission of pass-band and optical density of off-band is assured through Optolong's planetary rotation system, a homogenous and precise coating procedure
Each filter comes with a plastic case with high pressure EVA case lining
About Optolong
Optolong is the Astronomy Filters division of Yulong Optics, an optical filter design and processing company out of Kunming, China that has provided filters for over 700 optical companies since 1999. All Optolong filters pass European Union RoHS requirements and have been certified by TUV Rheinland and Bureau Veritas.