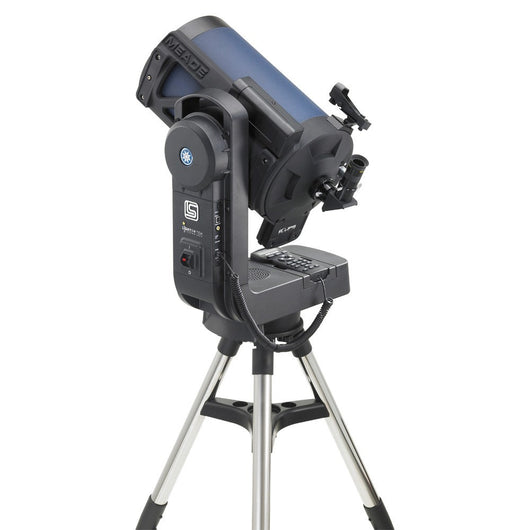 Meade LS 8" SC LightSwitch telescope. This 8" f/10 (2000mm focal length) powerhouse telescope is feature packed and portable. Includes genuine Meade Schmidt-Cassegrain optics with Ultra High Transmission Coatings (UHTC) for great image sharpness and contrast. Meade's patented automatic self alignment system aligns with just one touch of the power switch. Just flip the switch and walk away. It aligns itself. It is that simple.
The included AutoStar III GOTO keypad computer has an over 100,000 object library and guided tour functions. Includes Meade ECLIPS color CCD camera (640x480 resolution) which lets you capture images of your favorite celestial wonders and display them in real time on an external (user supplied) monitor or store them on a (user supplied) SD card so you can do CCD imaging your very first night out.
The included "Astronomer Inside" feature delivers over four hours of fun and informational audio presentations which can be heard over the built in speaker, and 30 minutes of video presentations and animations plus hundreds of still images which can be watched over an external (user supplied) TV or monitor. Imagine being given a brief and entertaining video presentation on Saturn while viewing that planet and its fabulous rings for the very first time. This telescope truly does it all.
Eight (user supplied) C cell batteries will run the telescope for 3-5 hours, with a Meade Universal A/C power supply available separately for longer observing sessions. (See recommended accessories, below.) Includes a highly rigid single fork mount featuring aluminum construction with massive 4.875" precision worm-gears. Standard equipment also includes a sturdy, adjustable height tripod with steel legs for great stability and vibration damping and a Series 4000 Meade 26mm Super Plossl eyepiece (77X magnification). Additional eyepieces available separately, compatible with all Meade and other brand 1.25" barrel size eyepieces.
Meade LightSwitch technology- bringing the fun back to Astronomy. This changes everything.