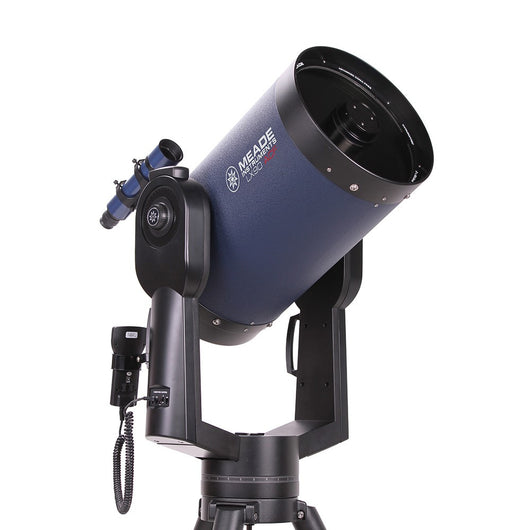 The 12" LX90-ACF has an 12" diameter f/10 ACF optical system (focal length 3048mm) and Ultra-High Transmission Coatings (UHTC) for maximum image brightness and contrast. This largest of the LX90 models collects over twice as much light as an 8" telescope, effectively doubling the image brightness on faint deep sky targets. Electronics include the advanced Meade 497 AutoStar computer system with over 30,000 object library, multiple guided tours, High Precision Pointing capability, and Meade SmartDrive with Permanent Periodic Error Correction.
Precise and quick star alignment is done near effortlessly with an incorporated 16 channel genuine Sony GPS receiver. The Autostar is flash-updatable via free downloads at Meade.com (optional cable required).
All LX90 models feature the solid and stable LX90 aluminum double fork mount, with fast slew speed adjustable from 1 to 7 degrees per second. Fine slewing and photographic guiding speeds can be adjusted from .01x to 1x sidereal in one one-hundredth increments. The mount and all electronics are internally powered by 8 (user supplied) C-cell batteries which will typically operate the telescope for a generous 60 hours (optional Meade Universal AC adapter also available). The mount also has mechanical locks in both axis allowing adjustment even without power.
The LX90 comes fully equipped with a heavy duty height adjustable Meade Field Tripod, 1.25" diagonal prism, 26mm Series 4000 Plössl eyepiece, Meade AutoStar® Suite Astronomer Edition Software for PC and an 8x50 viewfinder with quick release bracket. Scope weight is 60 pounds with 19 pound tripod. Ships in 2 boxes.