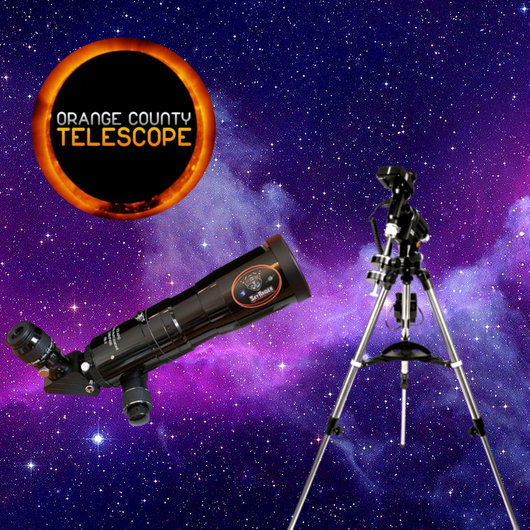 DESCRIPTION
FREE SHIPPING IN USA
Whether you're looking to delve into the details of our solar system or explore inspiring deep sky treasures, the versatile FirstLight series has an observing package that will fit your individual needs. 
SkyRaider66mm Doublet ED APO Refractor with 400mm focal length f/6 telescope, 2.0" Crayford Focuser; 1.25" 90° Dielectric Diagonal; 12.5mm LER eyepiece; and hard case with foam.
The iEXOS-100-2 PMC-Eight™ Equatorial Tracker System is a complete astronomical computerized Wifi or Wired GOTO Equatorial Tracker with integrated PMC-Eight™ electronics suitable for attaching Small Telescopes or DSLR Cameras attached to the Explore Scientific DSLR Camera Dovetail Assembly.
Connect by wire, WiFi, or Bluetooth®* to navigate the night sky and track objects with this integrated GOTO system that pairs a proven German equatorial mount with our revolutionary PMC-Eight™ motion control system.
* NOTE: Bluetooth hardware included in the mount; Bluetooth-compatible firmware and application coming soon
Precision GOTO system powered by ExploreStars II or ASCOM
Integrated autoguider port
Quiet belt-driven microstepper dual-axis drives
Optimized power management gives amazing battery life
User configurable for the widest range of applications for astrophotography and visual observing
Glow-in-the-dark markings on mount and tripod
| | |
| --- | --- |
| Item Number | ES-iEXOS-100-02 |
| Mount head weight | 9.45 lbs |
| Tripod weight | 5.35 lbs |
| Tripod fully collapsed, no mount head: | 25.5" |
| Tripod open, retracted legs, no mount head: | 25" |
| Tripod open, retracted legs with the mount head: | 38.5" at highest point, 36" to the center of the mounting bracket |
| Tripod open, legs fully extended, no mount head: | 42" |
| Tripod open, legs fully extended with the mount head: | 45" at highest point |
| Counterweights | (2) 1 kg each |
| Mount weight capacity | Approx. 9 lbs (equipment weight only),15 lbs Photographic (equipment and counterweights); Approx. 19 lbs Visual (equipment and counterweights) |
| Connection | Wire, WiFi, or Bluetooth® |