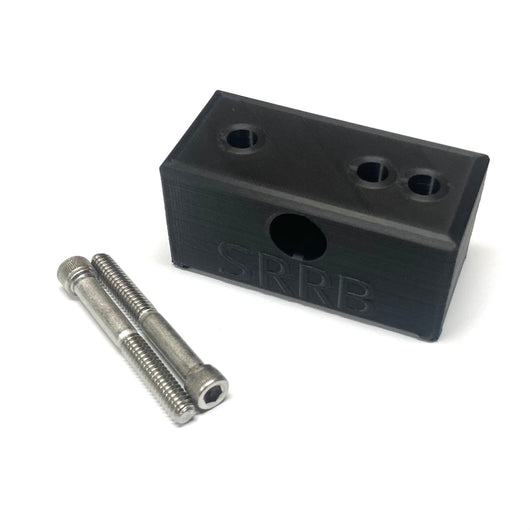 The SkyRaider RiserBlock for SkyRaider 66m or 80mm refractor telescopes.
This SkyRaider adapter will allow you to raise the stance of the telescope to allow more balancing room in declination and provide better clearance to access the focuser controls and focuser thumbscrews. 
Included is (1) 3-D printed super dense RiserBlock and (2) 1/4-20 fasteners.
Compatible with most universal dovetail bars.  DOVETAIL BAR NOT INCLUDED.
ADM and Celestron universal dovetail bars work great with this riserblock.
*****************************************************
To mount the S.R.R.B.
You will need a 3/16 inch Allen key for the fasteners and a universal dovetail bar with channel slots.
Take the two fasteners and insert them into the channel of the universal dovetail bar.
Take the riser block and place it over the fasteners.
Have your SkyRaider refractor ready and take the dovetail assembly and thread the fasteners to the pre existing threaded holes on the stock dovetail shoe.
Once the assembly is secured, tighten the fasteners with confidence.
*****************************************************
Compatible with SkyRaider 66mm and 80mm refractors.