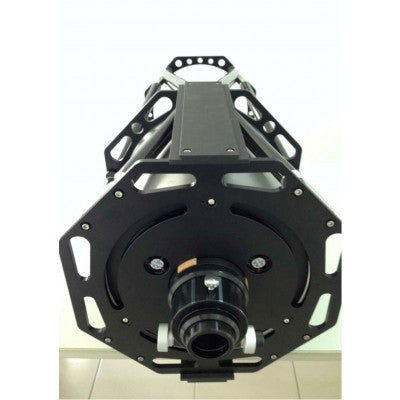 About Ritchey-Chretien Telescopes…
In 1910, American optician & astronomer George Willis Ritchey & French astronomer Henri Chretien designed a specialized Cassegrain that would later become the telescope of choice for many observatories and professionals around the world. The Ritchey-Chretien astrograph has many benefits that make this design appealing to anyone who is serious about astro-photography or imaging. Here are a few of those benefits:
Good-bye Coma: An RC has virtually no coma (stars look like little comets around the edges of the field), which means there will be greater image quality across a wider field of view.
No Chromatic Aberration: Because a Ritchey-Chretien does not use lenses or corrector plates, the design does not suffer from chromatic aberrations, or false color. If you've ever looked through an achromatic refractor (non-APO), you will have seen chromatic aberration.
No Spherical Aberration: The use of hyperbolic mirrors for both the primary and secondary removes the problem of spherical aberration from this optical system, an optical effect caused when light rays do not all come to focus at the same point, resulting in an image that is not in perfect focus.
16" f/8 Ritchey-Chretien Truss Tube Astrograph Highlights…
Optical Highlights: This Third Planet Optics (TPO) Ritchey Chretien telescope has 16" (406mm) of aperture and a focal length of 3250mm. The concave hyperbolic primary and convex hyperbolic secondary are made from low expansion quartz, and finished with a scratch-resistant highly reflective 99% dielectric coating for great contrast. The primary mirror is fixed in place in a metal mirror cell, and the secondary resides in a metal housing that can be collimated.
Carbon Fiber Truss Tube Design:
Lightweight yet strong carbon fiber truss tubes have low thermal expansion characteristics. Shifts in focus due to temperature changes are minimized because of this design. The trusses are also designed to flex equally, keeping the optics in collimation regardless of the position of the telescope.
Cooling Fans: The 16" Ritchey has three small cooling fans in the rear cell that help cool the inside of the tube down and bring it to ambient temperature so that you can start imaging sooner! The fans are powered by an external battery pack. This battery holder accepts 8-AA batteries (sold separately).
A Fixed Primary Eliminates Image Shift Schmidt-Cassegrain & Mak-Cassegrain telescopes achieve focus by moving the primary mirror back and forth inside the optical tube assembly, and this movement can cause image shift. While manufacturers have done a pretty good job of minimizing image shift on their telescopes, a moveable mirror makes it almost impossible to eliminate it completely. The Ritchey-Chretien has a primary that is fixed in place, removing the possibility of image shift and also the job of collimating the primary.
Two D Style Losmandy Dovetails Included Talk about versatility! Two Losmandy-style dovetails are attached to the truss tube support rings so that they ride at the top of the scope as well as at the bottom.
TPO 3" Focuser A 3" dual-speed linear-bearing Crayford-style focuser rounds out this package. The ridged focusing knobs are easy to turn, even with gloves on, and the 10:1 microfocusing dial allows for very small changes, or tweaks, in focus. It takes ten turns of the microfocusing knob to equal just one turn of the larger knob. There is also a little knob on the bottom of the focuser that controls the tension, so that you can make adjustments depending on the weight or distribution of your load. The 3" opening steps down to a 2" compression ring adapter, and you will receive 1.25" compression ring adapter so that you can make use of all your eyepieces. Two 25mm and one 50mm extension tube is also included to help you match the back-focus requirements of your imaging equipment. This is one nice focuser, and due to its steel drive rail and other upgrades, you will find that it suffers from very little flexure, even under heavier imaging payloads.