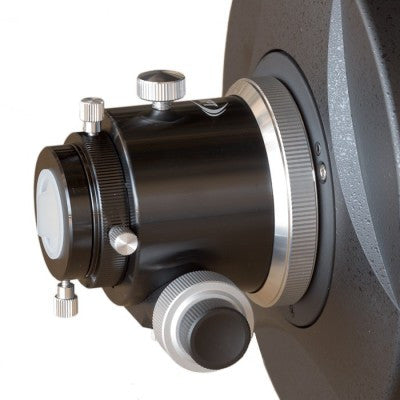 Third Planet Optics (TPO) 8" f/8 Ritchey-Chretien Astrograph OTA…
In 1910, American optician & astronomer George Willis Ritchey & French astronomer Henri Chretien designed a specialized Cassegrain that would later become the telescope of choice for many observatories and professionals around the world. The Ritchey-Chretien astrograph has many benefits that make this design appealing to anyone who is serious about astro-photography or imaging. Here are a few of those benefits:
Good-bye Coma: An RC has virtually no coma (stars look like little comets around the edges of the field), which means there will be greater image quality across a wider field of view.
No Chromatic Aberration: Because a Ritchey-Chretien does not use lenses or corrector plates, the design does not suffer from chromatic aberrations, or false color. If you've ever looked through an achromatic refractor (non-APO), you will have seen chromatic aberration.
No Spherical Aberration: The use of hyperbolic mirrors for both the primary and secondary removes the problem of spherical aberration from this optical system, an optical effect caused when light rays do not all come to focus at the same point, resulting in an image that is not in perfect focus.
8" f/8 Ritchey-Chretien Astrograph Highlights…
Optical Highlights: This TPO Ritchey Chretien telescope has 8" (200mm) of aperture and a focal length of 1600mm. The concave hyperbolic primary and convex hyperbolic secondary are made from low expansion quartz, and finished with a scratch-resistant highly reflective 99% dielectric coating for great contrast. The primary mirror is fixed in place in a metal mirror cell, and the secondary resides in a metal housing that can be collimated.
Multiple Knife-Edge Baffle System: The computer designed and optimized baffle system in the TPO Ritchey-Chretien works wonders at keeping stray light at bay. Inside the tube are ten light baffles, and the primary and secondary mirrors are baffled as well.
2" Dual Speed Crayford Focuser You'll love the 2" 1:10 Dual Speed Crayford focuser that comes standard on this RC. The dual knobs allow you choose the speed with which you focus. One turn of the larger knob equals ten turns of the smaller knob, so minute adjustments…when you are "almost there"…are easy to do with this high quality focuser. A 1.25" compression ring adapter is also included so you can use both 2" & 1.25" eyepieces. Two spacers are included as well, which allows you to adjust the focus position for different cameras with various back focus requirements.
A Fixed Primary Eliminates Image Shift Schmidt-Cassegrain & Mak-Cassegrain telescopes achieve focus by moving the primary mirror back and forth inside the optical tube assembly, and this movement can cause image shift. While manufacturers have done a pretty good job of minimizing image shift on their telescopes, a moveable mirror makes it almost impossible to eliminate it completely. The Ritchey-Chretien has a primary that is fixed in place, removing the possibility of image shift and also the job of collimating the primary.
Two Dovetails & Finderscope Base Included Talk about versatility! One Vixen-style dovetail is attached to the bottom of the OTA, while another Vixen-style dovetail rail is attached to the top for quick and easy attachment a variety of mounts. The rails can be removed if you wish to use mounting rings (sold separately) instead. While a finderscope is not included, the OTA comes standard with a finderscope base that will accept Vixen-style brackets (if you want an optical finder) or most red dot finders.
Please Note: The image shows the carbon fiber version of this telescope. The rolled steel version is white with black metal trim. All other accessories are the same.