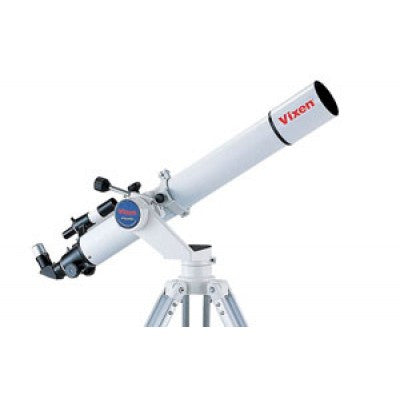 Vixen A80MF Refractor Telescope
Are you ready for a beginner's telescope that's a cut above the rest? Then take a closer look at the Vixen A80MF Telescope...

Starting with a quality 80mm (3.2") Vixen Achromatic Refractor which operates at a focal length of 910mm with an f/ratio of 11.4, we have a small, lightweight telescope capable of its maximum magnifying power and reaching a limiting visual magnitude of 11. The telescope body measures 3.5" x 33.9" (90mm x 860mm) and weighs only 5.5 lbs (2.5kg), so it is manageable by even the most inexperienced hands - yet capable of revealing some of the most magnificent wonders of the universe. Through its "eye" you'll reveal the moons of Jupiter, the rings of Saturn, mountains and craters on the Moon, colorful double stars, vast nebula, bright clusters and more... Because the Vixen A80MF makes a great terrestrial telescope, too! Keep an eye on the nesting eagles or spot distant ships on the horizon. The Vixen A80MF Refractor telescope does it all...
Words on the Vixen A80MF Refractor Telescope...
"If you are looking to start out with something a little larger than a beginner scope or need a better finder scope for your large telescope, the A80Mf is the one to buy. Although it is just 10mm larger than its smaller cousin the A70Lf, this extra aperture will reveal more detail in solar system objects and the deep sky. I find myself using the 80mm size for terrestrial viewing of ships on the ocean or whale watching. With an optional sun projection accessory, I have viewed sun spots projected onto a white surface. (Of course NEVER look at the sun directly). The A80Mf,, although inexpensive, is not a toy telescope. It has the same quality glass and exacting workmanship that goes into our much larger instruments." -- Mr. StarGuy
Vixen A80MF Refractor Telescope Features
Excellent optical quality Vixen 80mm f/11.4 Achromatic Refractor telescope.
A smaller 6 power finder telescope that attaches to the main scope to help you center the object.
A quality Vixen 20mm eyepiece for general viewing.
A Vixen 6.3mm eyepiece for those really clear nights for high power viewing.
A diagonal Prism that connects the eyepiece to the telescope for comfortable positioning.
A Dew / Sun (not for solar observing) shield and quality rack and pinion focuser.
Complete tube rings and dovetail plate to quickly attach to Vixen Mounts.