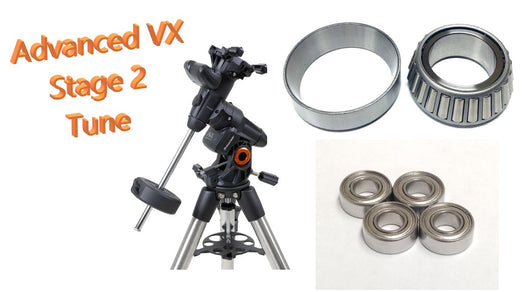 THE STAGE 2 SERVICE INCLUDES EVERYTHING FROM THE STAGE 1 UPGRADE
Upgrade your Celestron AVX German equatorial mount with the highly sought-after AVX Stage 2 Tune. New or used mounts welcomed! This upgrade increases maximum exposure time without the hassle of using a guidescope.  Increases performance , reduces load drag, and decreases resistance. Now you can have the most portable Celestron computerized German Equatorial mount with improved performance right out of the box! (Adding this upgrade may add one to three additional days to your orders shipment processing)
I already own an AVX how do I start the upgrade on my mount?
Step 1: Box up ONLY your AVX mount head, DEC Cable and Hand Controller for shipping. We suggest using the original packaging if you still have it.
Step 2: Ship us your package with your contact information inside, name, return address, preferably phone number or email. Ship to 2216 N. Main St. Santa Ana, CA 92706
Step 3: Once we receive it, we will begin the service asap. It typically takes us 3-5 business days to get the upgrade done. We will notify you with tracking when the mount is on it's way back to you.
Our Stage 2 service provides:
- Total examination of mount head and electrical connectors
- Disassembly of mount head
- Examination of metal parts for factory imperfections, cleaning old lubricants and removing foreign objects
- Inspection of motor gear mesh
- Replacement tapered roller bearing for reducing load drag, and decreasing resistance
- Replacement of original plastic bearing spacer with custom 3-d printed insert
- (4) new ceramic bearings, 2x for each worm gear RA and DEC
- Complete regreasing with hyper smooth dielectric synthetic grease
- Adjustment of worm gear mesh to mitigate backlash
- Reassembly, testing motor functions, firmware and GoTo function
AVX MOUNT NOT INCLUDED WITH $299 PRICE